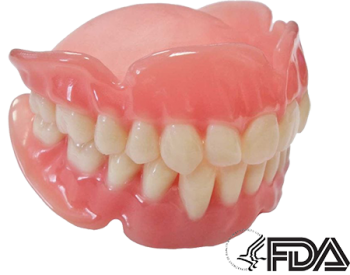 A biocompatible material for direct 3D printing of pink denture bases
EnvisionTEC's E-Denture material for the Perfactory family of 3D printers is an FDA-approved, biocompatible Class IIa material suitable for printing all types of denture bases. This material has low shrinkage compared to standard PMMA denture base materials, which results in excellent fitting denture bases. This 3D-printed solution allows for a natural looking appliance with exceptional customized fit.
Limited availability in North America Q3 2017.
브랜드 : envisionTEC | 제품명 : cDLM Family, Desktop Family, Perfactory Family
응용분야 : Medical
Physical Properties
Brookfield viscosity at 23°C: 1.0 – 1.5 Pa s
Flexural strength: 85 MPa
Flexural modulus: 2.100 MPa
Water sorption: 32 µg/mm3
Water solubility: 1.6 µg/mm3
Hardness shore D: 80 – 90
Recommended Machines
Micro Plus Advantage, Micro Plus XL, Vida, Vida HD, Micro Plus cDLM, Vida HD cDLM, Perfactory 4 Mini XL LED Series, Perfactory 4 LED XXL, Vida cDLM, Vida UHD cDLM