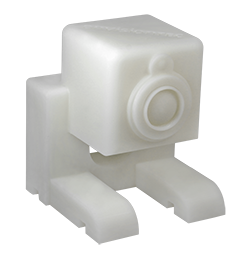 E-Rigid PU is a polyurethane-like resin that 3D prints end-use and prototype parts that compete with injection molded plastics.
Available in black, natural and white, E-Rigid PU is hard and stiff but also maintains good strength, marked by flexibility and impact resistance. With a Shore D hardness values similar to the value as a cast urethane plastic, E-Rigid PU is a versatile and tough material.
E-Rigid PU is ideal for end-use and prototype applications that may have previously used ABS, nylon or urethane plastics, such as casings for handheld devices, snap-fit or consumer and sporting goods.

브랜드 : envisionTEC | 제품명 : 3SP Family, Perfactory Family, Desktop Family
응용분야 : Automotive,Manufacturing,Medical,Education
Physical Properties
Tensile Strength: 20.60 MPa Black / 34 MPa White
Tensile Modulus: 396 MPa Black / 700 MPa White
Elongation at Break: 173% Black / 120% White
Flexural Strength: 21.6 MPa Black / 36 MPa White
Flexural Modulus: 678 MPa Black / 860 MPa White
Izod Impact Notched: 43 J/m Black / 47 J/m White
HDT at 1.8 MPa (264 psi): 41°C Black / 42°C White
Shore Hardness, D: 73 Black / 78 White
Viscosity at 30°C: 375cP Black / 370cP White
Colors Available: Black, White